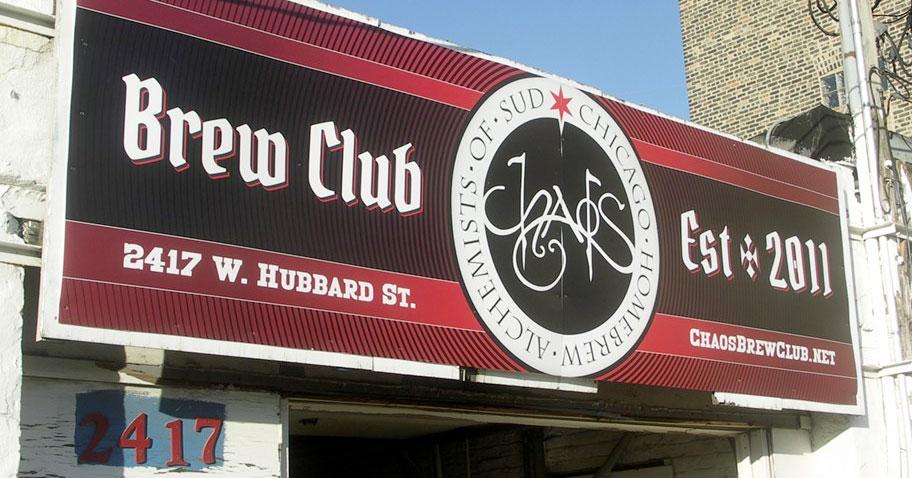 CHAOS, the Chicago Homebrew Alchemists of Sud, is a group dedicated to the education of all things craft beer: from brewing to appreciating. One of the unique benefits of our club is our community brew space for members at 2417 W Hubbard in Chicago. Members have access to our brewhouse Calendar and Reservation system.
Home brewing in an urban environment presents many challenges: apartments are small, storage space is limited, and it's a pain to haul things up and down stairs; landlords, roommates, and significant others don't always appreciate the brewing process. With these common issues in mind, we created a space where people could come and brew freely. Furthermore, many members find it much more cost effective to join CHAOS and use the brew house's community equipment as opposed to investing large sums of money on personally-owned equipment. Not only is the equipment expensive but it also takes up a lot of space. 
Members have access to a 2,000 square foot community brewhouse at 2417 W. Hubbard in Chicago. The brew house is set up so that the only items members must provide for themselves is a fermenter and ingredients. Everything else is there! 
Temperature Controlled Fermentation Room
Filtered Water
Natural Gas Blichmann Floor Burners
A Gas Range/Stove
Large and Small Brewing Kettles
Mash Tuns
Deep Basin Sinks for Cleaning
Automated Power Grain Mill
Both Immersion and Counter Flow Wort Chillers
Various Spoons, Siphons, Hosing and Strainers
Aeration Wands
Hydrometers, Thermometers, and Refractometers
Measuring bowl, Cups, and Scales
Misc. Brewing equiment
The brew house also serves the dual purpose of providing the space to brew and also the opportunity to share techniques, socialize, and learn from one another. The Brew House is also host to seasonal events such as Harvest Fest, Stout Night, and various homebrew competitions throughout the year.