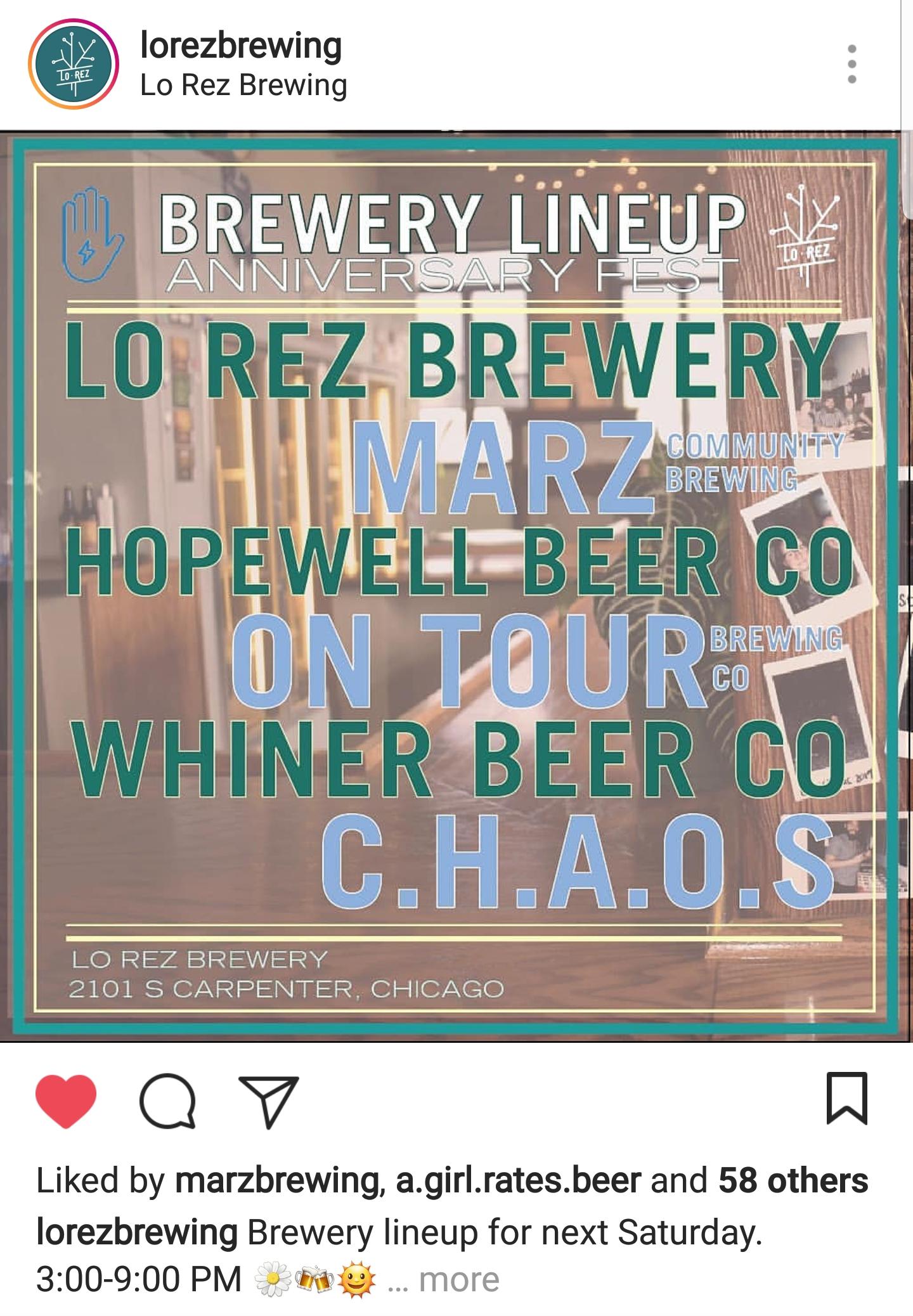 Saturday, June 9, 2018 -

3:00 PM

to

9:00 PM
CHAOS is serving two handmade beers at this event - Steve Burkhart's Strawberry Blonde and Jim and Hugh Vondracek's Cask IPA with hops in the cask.  Bring your yard chair, come hang out with us at the CHAOS table.  There will be food and entertainment, too.  
Here's the info from the Facebook event:
At last, we invite you to the Lo Rez Anniversary Fest, a celebration of our one year anniversary from 3:00 - 9:00 PM on June 9th. Not only is this celebration an excuse for us to throw a big party, but also to highlight some great breweries who helped us out, high-five the small business owners who we are fortunate to now call friends, raise money for DACA students at Benito Juarez, and have a beer with all of you for making it a fun & exciting year. It's been a blast! 
Join us after 3:00 PM on Saturday, June 9th for an outdoor festival in the Lo Rez parking lot. The fest will feature craft beer from Lo Rez Brewery, Whiner Beer Company, Hopewell Brewing Company, Marz Community Brewing, On Tour Brewing Co., and a chance to try casked home-brew beer by C.H.A.O.S. Brew Club. We will also be celebrating with a great lineup of local bands, businesses, food and drink vendors. Don't miss the after party from 9:00 - 11:00 PM in the Lo Rez taproom, featuring live music from These Old Men They Play Records! 
In an effort to support Pilsen students protected by DACA, the Lo Rez Anniversary Fest will be used as a platform to fundraise for Benito Juarez Community Academy, located at 21st and Laflin. 
Live Music:
Dummy (Headliner at 8:00 PM) 
Kelroy 
Rosaries 
Coupler 
Baby Money & the Down Payments
The Just Luckies 
Mark S Mikunas (taproom)
*Schedule subject to change. Sound graciously provided by Lumpen Radio -- check out sets by Lumpen DJs between bands or visit their booth during the fest!*
Local Businesses:
Instituto Grafico de Chicago
Pilsen Outpost 
Bridgeport Art Center
Chicago Ceramic Center
Pilsen Vintage and Thrift 
Colorful Culture
Food & Drink: 
Hexe Coffee Co.
Cocktail Courier 
Doom Street Eats
Yvolina's Tamales
Mexi tacos
Benito Juarez Community Academy is a premier neighborhood school that establishes a dynamic family of lifelong learners who strive to think critically, progressively, and globally while engaged in the pursuit of personal and collective growth. Learn more about Benito Juarez by visiting their website at https://www.benitojuarez.net/ or by visiting their booth at the Lo Rez Anniversary Fest!