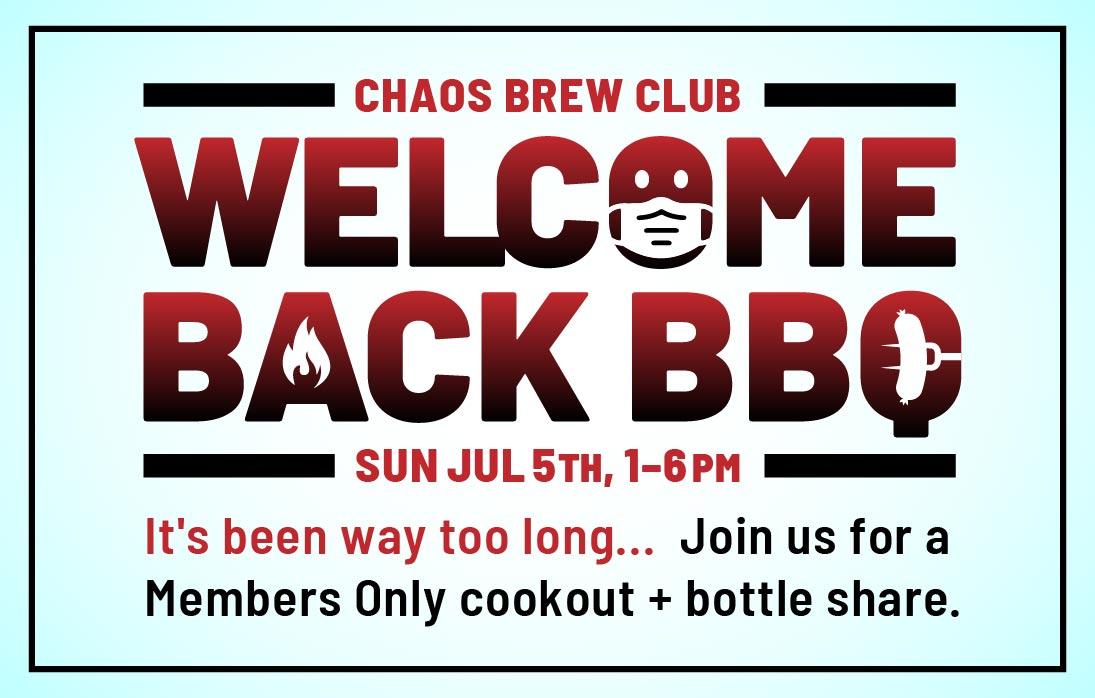 Sunday, July 5, 2020 -

1:00 PM

to

6:00 PM
It's been way too long since we've been together as a group, so we're hosting a barbeque and bottle share for current CHAOS members (and a +1 for your SO or BF).
It was just announced that Chicago Bars & Restaurants can open to limited indoor seating beginning June 26 AND Chicago is on pace to move to Phase 4 at end of June which allows gatherings of up to 50 people. We will be gathering outside with plenty of space to distance ourselves, and we'll avoid out usual buffet style and make sure everything is as sanitary as possible.
BBQ
A few of us are going to smoke and/or grill some meats (if you want to smoke or grill too that's awesome)
and the rest can bring a dish to share.
Here's a signup spreadsheet so we all don't make the same thing....
https://docs.google.com/spreadsheets/d/1JDXl49qqviRzLbSS9n3dSxKCB0vhRq4H...
Bottle Share
Bring a beer to share, the club will have plenty of disposable plastic cups.
If you have a keg you want to kick bring that, but sign up on the google sheet so we know what we're in for when we setup on Sunday AM.
Misc
Stay home if you're not feeling well while we miss you ...and we'd love to see you....we'd rather hang with you when you're feeling better
We'll be spacing out some tents for shade in the back and front of the BH.
Please, wear a mask to and in the BH
We will have the sinks in the BH all ready as hand washing stations.
RSVP Here 
https://forms.gle/HazpgjxhubW1SKD29
LMK if you have any ?s or concerns
Reed & Steven