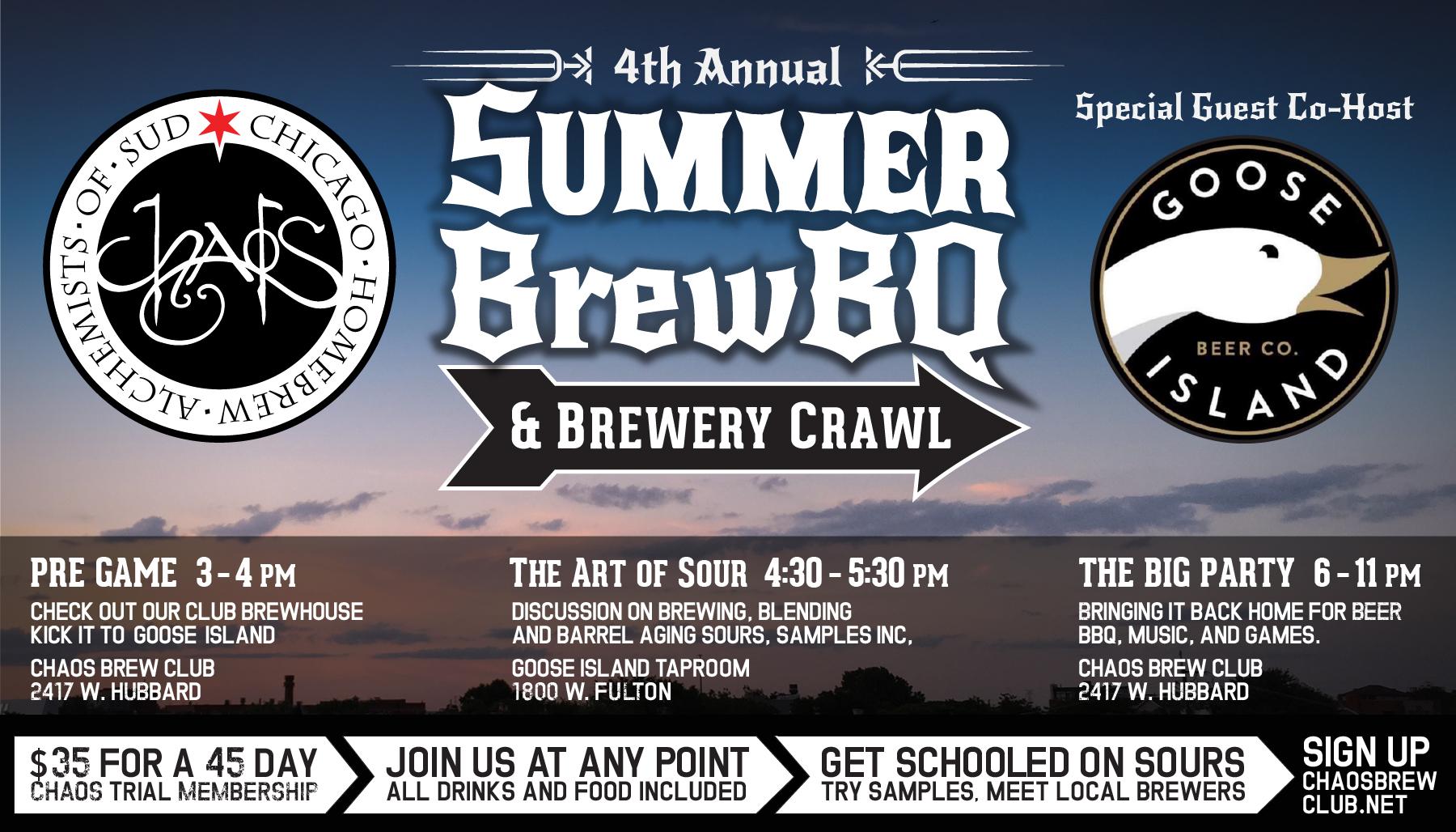 Saturday, August 13, 2016 -

3:00 PM

to

11:00 PM
For our 4th Annual Summer BrewBQ, CHAOS is taking the party on the road for a short brewery crawl from our club brewhouse to the Goose Island Taproom, then back to CHAOS for over 30 home brews and guest taps, plus DJ Jivefreash and Beer the Band.
Our School Series will be focusing on Sour Beer, and we'll have an awesome line up of crisp crushable beers that will pair well with all the smoky barbecued goodness we'll be serving up.
PRE GAME  3–4 PM
Check out our club brewhouse and sample homebrews and enjoy tasty grilled apps compliments of the Hobo-Q mobile grill.
CHAOS Brew Club
2417 W. Hubbard
HAPPY SOUR HOUR  4:30–5:30 PM
Hobo-Q will be joining us on a disc golf tour to Goose Island Taproom for a discussion on brewing sour ales with samples of Gillian with strawberries and barrel aged, then we'll keep grill'n and disc golf'n back CHAOS.
Goose Island Taproom
1800 W. Fulton
THE BIG PARTY  6–11 PM
30+ home brews and guest taps, barbeque with vegan options. Dj Jivefresh will spinning all night, with a special appearnce by Beer the Band!
CHAOS Brew Club
2417 W. Hubbard
Show up early and join the brewery crawl to Goose Island, or just come for the party at IBW. All beers and food included for CHAOS Brew Club members, so sign up today for a $35 CHAOS Trial Membership to join the fun.