Please use this thread for discussing the CHAOS booth that we will have in Grand Rapids for NHC Club Night.
Nancy and I meet recently to plan some of the elements that will be part of our booth.  Below I've listed some notes from that meeting:
Theme:  Wood/Natural shades/Rustic. - We decided that most of our elements such as the two serving stations are composed of Wood.  We will continue this theme throughout the booth with design elements.  The focus will also be on promoting the club with items (all to be determined after pricing) like stickers, coasters, and brochures.  We think explaining who we are and serving great beers should be enough.  We've abandoned any past kitchy ideas.
Beers:  We are looking for at least 12 solid, good quality beers to be served on the taps.  We can also handle bottles as well.  If you would like to contribute beer, please sign up here: NHC Beer
Booth Layout:  Below is really rough sketch of the booth layout we agreed upon.  Nancy may have a more professional looking layout coming soon.  I've also included some of the design elements (largely thanks to Jeremy). 
     Station 1 - Barrel Serving Station:  This station will have 8 taps and will be self-serve (although there will be one CHAOS member to help guide people and also promote the club - a greeter of sorts).  We will be putting our chaos logo on the top.  We will also include arrows made out of chalk board paint that will point to each tap.  The arrow will be labeled with what beer that tap is dispensing. Taps will be at easy serving height and the barrel will not be too high, so that you can read the top head and figure out what each beer is.  Taps will go into the side of the barrel and go around 3/4 of the barrel.  The last quarter will have not taps and will serve as a means to get a trunk of tap lines back to corny kegs on ice in buckets.  We will hide the trunk of lines by building a small bench.  It will serve double duty by providing an area for people to sit.  The back end of the bench will be anchored by a wooden wagon wheel to separate the serving and non-serving area.
     Stations 2 & 3 - Bottles and Shroud/Jockey Box:  This station will be manned and will contain 4 taps along with an area for pouring bottles.  Jeremy has kindly allowed us to use a beautiful rustic wooden table. to the right portion of the table we will serve bottles.  The left portion will contain the 4 taps.  It should only require 3 people total to work these stations.  The front portion of the table, in front of the wooden jockey box shroud will be promotional items.  The table also has lower cubby holes that we will be filling with a mixture of cobalt blue, amber, clear, and green bottles.  This will be back-lit with either a rope light or holiday lights to give some illumination.
     Storage:  The back 10' section of the booth will house buckets for corny kegs.  They will line the whole back area.  In addition the larger blue tubs will be used to hold bottled beers.
     Sinage:  A back frame-only wall will be constructed.  This will be modular and easy to assemble and disassemble.  The frame will be 10' high.  The center will hang our CHAOS sign.  To the left and right will be 4 hanging chalkboard signs (also thanks to Jer), a total of 8 signs flanking the Chaos sign.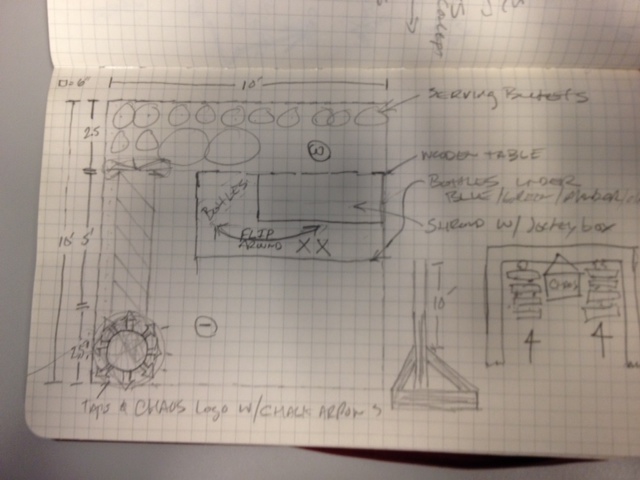 Some design elements of the booth: