Our effort is to continously improve our brewhouse and its value to our members, therefore we have upgraded our chiller's pump to a Blichmann RipTide Pump! This thing is the Cadillac of brewing pumps and we're excited to have it. It's more powerful, it purs like a kitten, and it's enclosed to shield itself from inevitable splashes.
There are a few important notes about the new pump, so please read carefully.
If you read no further, know that you can operate this pump exactly as you've been operating the old pump. It works just the same! - but with added features. These features can be dangerous though if operated incorrectly.
1) PRV (Pressure relief valve). Please don't touch this unless you know what you're doing. Contact me or an alchemist if you want to use this option. It can burn you AND others if you don't know what you're doing.
2) Tri-Clamp. This is used for easy, in-depth cleaning. We're only planning on using this once a quarter for a deep clean. Please don't take it off unless you know the exact parts that are inside that housing and where they go.
3) Linear Flow Valve. Please use this!! This controls the flow of wort just like our old valve does - except it's a little more exact. Controlling the flow of your wort = controlling the temperature of the wort going into your fermenter. All the way left = full flow & All the way right = no flow.
4) On / Off Switch. There's now a water-proof On/Off switch located directly on the pump. However, it's more than likely easier to use the current On/Off switch that we have hooked up to the extention cord. It's good to know about this though in case the pump isn't turning on for you!
And finally, please store the chiller with the cord wrapped around the top of the dolly. The cord is much longer than our past cords and we don't want it dragging on the ground. Thank you!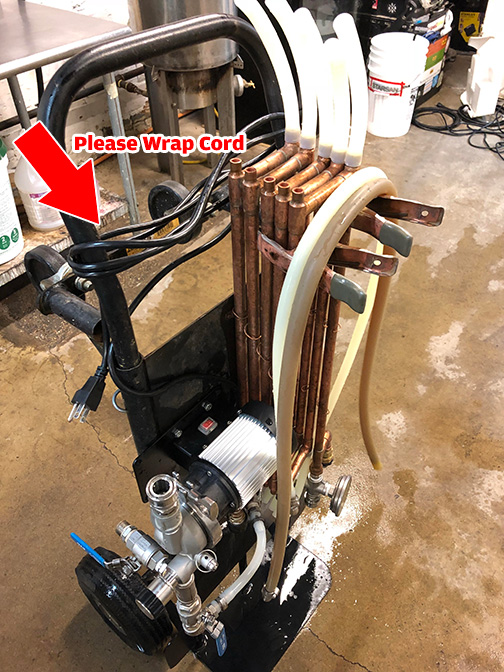 PLEASE don't hesitate to respond to this thread or PM me with any questions.
-Brandon